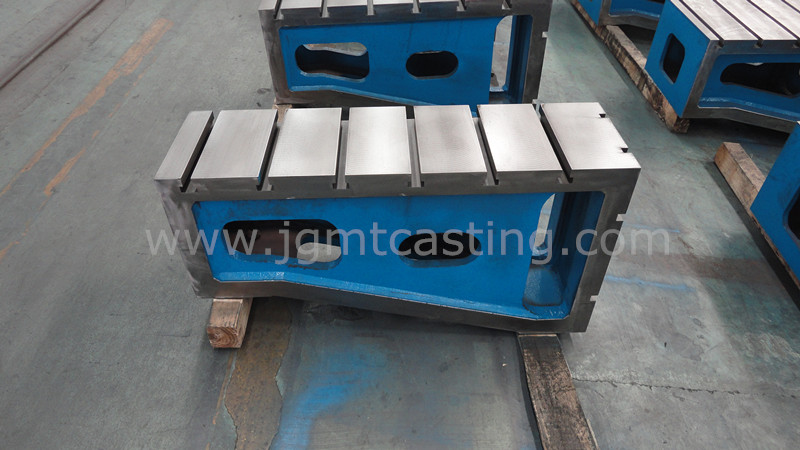 Large Size Angle Plate
Large Size Angle Plate
Jinggong Large Size Angle Plate used for fixing work pieces in vertical configurations, are designed to offer individual clamping options for your machining centers. Our stable, ribbed angle plates are made of high-density cast iron and have T-slots or fixing holes.
The flatness accuracy machined to DIN876 and T-slots machined to DIN650.
Hardness is in the range of HB170-240 and the surface flatness accuracy is available as being Grade I, II or III as per DIN876 Standard.
T-slots, threaded holes are made as per customer's requirements on these angle plates.
Angle plates with sizes above 300mm are webbed to ensure rigidity.
Traceable calibration certificates are provided along with the angle plates.
Standard sizes for reference:
A

B

C

mm

inch

mm

inch

mm

inch

1500

59

800

31

800

31

1500

59

1000

39

800

31

1500

59

1250

49

800

31

1500

59

1500

59

800

31

2000

79

800

31

800

31

2000

79

1000

39

800

31

2000

79

1250

49

800

31

2000

79

1500

59

800

31

2500

98

800

31

800

31

2500

98

1000

39

1200

47

2500

98

1250

49

1200

47

2500

98

1500

59

1200

47

3000

118

800

31

1200

47

3000

118

1000

39

1200

47

3000

118

1250

49

1200

47

3000

118

1500

59

1200

47