Technical Requirements For Assembled Cast Iron Platforms For Splicing
2022-03-18 15:47:46
Assembling cast iron platform use: mainly used in maintenance workshop assembly platform.
Technical requirements for assembling cast iron platform:
1. Main structure and performance: The materials used for manufacturing should comply with the relevant standards and specifications issued by China or the Ministry of Commerce, and have a warranty certificate; when the equipment is submitted for acceptance, a re-inspection report on the chemical composition and mechanical properties of important parts and materials should be provided.
2. Castings are not allowed to have casting defects such as cracks, cold insulation, pores, shrinkage holes, slag inclusions, and sand holes.
3. Castings should undergo two stress relief treatments: annealing at 600℃~620℃, machining annealing at 550℃~580℃, and the surface has good heat resistance and wear resistance.
4. The working surface adopts the scraping and grinding process, and the surface grade accuracy is 2~3 (the accuracy is carried out according to the standard metrological verification regulation JJG117-91).
5. The six sides of the flat plate should be processed by a planer.
6. When the plates are combined, the gap between the seams should not be greater than 0.5mm.
7. The nameplate of the equipment should be installed at the position where the equipment is easily seen by the operator.
8. The assembling cast iron platform should ensure that it can work continuously and normally under the condition that the local ambient temperature is 0℃~+45℃.
9. Dimensions of cast iron platform (length × width × height): 1000x1000mm-2000×6000×400mm.
10. Material: HT200-HT250.
11. Hardness of working surface: ≥HB200.
12. Structural form: box-shaped rib-plate structure.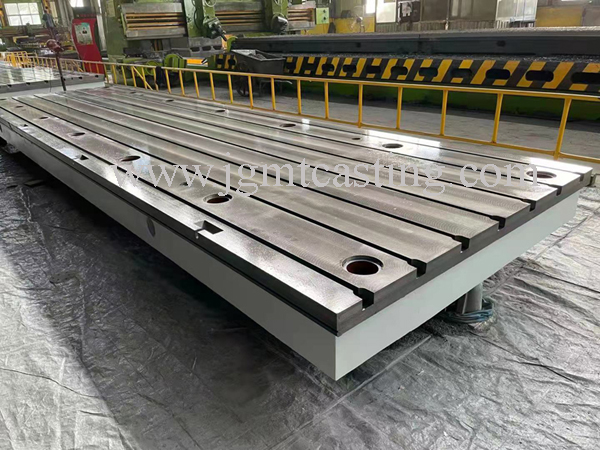 cast iron assmebly plate
Jinggong Measuring Tools Producing Co., Ltd is specializing in manufacturing and exporting all kinds of cast iron products,especially for cast iron floor plates, cast iron surface plates, cast iron clamping plates, cast iron angle plates, cast iron box table and other machine tool castings. The products have the features of reasonable design, stable structure, superior quality and competitive price.