Factors Of Main Deformation In The Use Of Cast Iron Platform
2022-03-16 15:47:09
During the use of the cast iron floor bed plate, due to the action of force, the phenomenon that the size or shape of the cast iron platform changes is called deformation. The deformation of cast iron platform is divided into elastic deformation and plastic deformation, among which plastic deformation is easy to cause the platform to fail. After the cast iron platform is deformed, the relationship between the overall mechanism is destroyed, so its service life will be greatly shortened.
The main reasons for the deformation of cast iron platforms are:
1. When the stress generated by the external load exceeds the yield strength of the cast iron platform material, the platform will be overstressed and deformed.
2. When the temperature increases, the atomic thermal vibration of the cast iron platform material increases, the shear resistance decreases, and slip deformation is easy to occur, which reduces the yield limit of the material; or the platform is heated unevenly, and the temperature difference is large everywhere, resulting in a large The thermal stress caused the cast iron platform to deform.
3. Due to the residual internal stress, the static strength and dimensional stability of the cast iron platform are affected, which not only makes the elastic limit of the platform low, but also produces plastic deformation that reduces the internal stress.
4. Due to the internal defects of the platform material.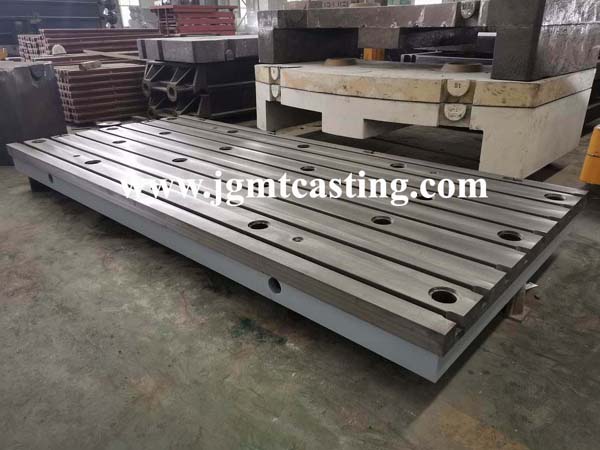 cast iron floor bed plate
It should be pointed out that the deformation of the platform is not necessarily caused by a single factor next time, but is often the result of the combined action of several reasons and the accumulation of multiple deformations.
The deformation of the cast iron platform in use is inevitable, so when the cast iron platform is overhauled, it is not only necessary to check the wear of the working surface, but also the bottom rib structure must be carefully inspected and repaired. Especially for the deformation of the sub-overhaul platform, attention should be paid to inspection and repair, because the cast iron platform is deformed under the action of internal stress, which is usually completed within 12-20 months.
Jinggong Measuring Tools Producing Co., Ltd is specializing in manufacturing and exporting all kinds of cast iron products,especially for cast iron floor plates, cast iron surface plates, cast iron clamping plates, cast iron angle plates, cast iron box table and other machine tool castings. The products have the features of reasonable design, stable structure, superior quality and competitive price.